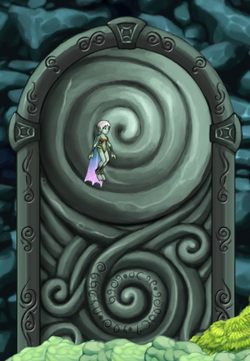 The Song Cave is a small cave system located in the southeast corner of Home Waters.
At the centre of the cave is a large stone door etched with swirls and Aquarian letters. The door is opened by singing the right combination of notes:
New Fish
Edit
2 x Eel Oil
Leaf Poultice recipe
Hot Soup (behind boulder, next to door)
The Bind Song
Special Bulb (underneath Giant Anemone)
Anemone Seed (hidden within Giant Anemone, requires Nature form)
Hand Roll
Aquarian Texts
Edit
This phrase is engraved on the stone door at the heart of The Song Cave:
More inscriptions scattered throughout the cave:
Carved on the horns of a large, stern head:
Dedication etched onto the wall of The Song Cave's inner chamber:
The Song Cave is the only known cave system of the Erulians.